Power Washing in Landenberg PA
Get The Best Power Washing In Delaware
Professional Power Washing in Landenberg PA
Power washing is the best way to make your property beautiful and clean. Although this difficult task is often forgotten, because preference is always given to the cleaning of the interior, it is perhaps one of the most important. Scientists have proven that people get a first impression in the first few seconds and ask yourself, what is the first thing you notice when you pull up somewhere? The building is first what you spot. The look and condition of your house will affect the first impression people get about you. That's why our Power Washing in Landenberg PA offers affordable and professional service that will restore your house to its old shine, like when it was new. We follow the highest industry standards and use proven methods that give one hundred percent results. Each of our workers is professionally trained in power washing to exceed all your expectations. Most people think of doing this job on their own, but this is a huge task, which you will find difficult to do without adequate equipment, expertise, and a lot of time – that's why we are here.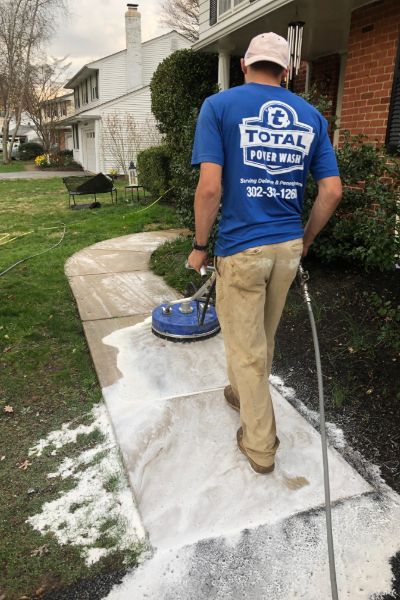 Power Washing in Landenberg PA Services
Increase Your Home's Curb Appeal with Power Washing in Landenberg PA
You will admit, next to your family, your house is your greatest asset. And you certainly want it to stay that way. Neglecting to clean the outside of your property can greatly affect its appearance, but also the health of your family, and pets as well. Our Power Washing in Landenberg PA is the most effective way to drastically increase the curb appeal of your home, which will also mean greater value in the market. Our technicians will take care of every inch of your property in detail and clean your home to a level you've always dreamed of. A lot of things can accumulate over time in outdoor areas; algae, mildew, dirt, and anything else that affects the appearance of your home. So, over time, if cleaning is neglected, it can lead to huge damage and high costs for their repair. This is not the biggest problem, if these micro-organism home invaders reach the inside the health of your family is highly at risk, which has no price. Let us make your house more beautiful, cleaner, brighter, and more pleasant to stay in.
Request A Quote In Just Seconds
Why Choose Our Power Washing in Landenberg PA
When you decide on a power washing service, always choose an experienced company. If you hire unprofessional people, you risk permanent damage to your home. Our workers are trained and have many years of experience in this business. Your property will be completely cleaned without the slightest damage. What sets us apart from other companies is that we use our special cleaning solution that is eco-friendly and completely safe for you, your family, and your pets. You've probably seen some of the houses we've washed by now, and if you haven't, check out our customer's reviews for references. Our core goal is to provide you with the best service that you deserve. Our Power Washing in Landenberg PA workers are fully trained and equipped with the latest equipment, and not to mention, they are insured. Let us restore your home to its former glory, while you can dedicate yourself to other things without worrying about what will happen! Total Power Wash offers Power Washing in Landenberg PA, Wilmington DE, Hockessin DE, Garnet Valley PA, Kennett Square PA, Chadds Ford PA, Greenville DE, and the surrounding areas.
We'll Increase Your Curb Appeal Instantly!
Real Power Washing Reviews
Power Washing in Landenberg PA Company
"I usually power wash my home myself but this year I had a knee injury, and just could not handle it. I read some reviews and decided to try Total Power Wash. The power washing took a few hours, and the price was reasonable considering they cleaned my house, a large vinyl storage shed, and a big outside deck. I won't ever power wash my house myself again, but plan on using Total Power Wash from now on."
Power Washing in Landenberg PA Services
"Total Power Wash took care of power washing my deck, awnings and my outdoor furniture. Daniel did a fabulous job. I would highly recommend this company for all of your power washing needs!"
Power Washing in Landenberg PA Business
"Total Power Wash did an amazing job power washing my home! They were thorough and paid attention to detail. My home looks brand new. My neighbors have even commented on how awesome it looks. I could not be any happier!!!"
More Five Star Services We Offer
Ready For Your Home's
TOTAL Makeover?